Announcement of IMT Japan Representative Director
IMT Solutions is pleased to announce that Mr. Takuya Kamita has been appointed to be the Representative Director of IMT Japan from October 1st, 2019.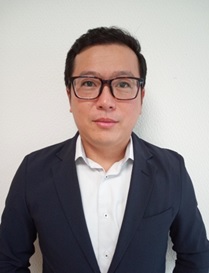 IMT Japan Co., Ltd. (Office: Shinjuku-ku, Tokyo, IMT Japan) is pleased to announce that Mr Kamita takes Representative Director position from October 1st, 2019.
IMT Japan is a Japanese subsidiary of IMT SOLUTIONS CORPORATION (Head office: Ho Chi Minh City, Vietnam, IMT). Vietnamese engineer will provide technical support from a Japanese company (on-site service), or contribute to system development, internal system operation and IT business of a Japanese company from Vietnam side (Remote service / offshore).
IMT was established in Vietnam in 2008 and provides software development and IT consulting services to customers in Japan, Europe and the United States. We have acquired ISO27001 so that cost-effective and excellent Vietnamese engineers can provide high-quality services to improve quality and productivity. IMT has been named as one of the Vietnam's Top ICT companies in 2015, 2016 and 2017. In addition, we have been a gold partner of Microsoft for the last 07 consecutive years.
The following are comments from Mr Kamita, who will assume office as the representative director.
"In recent years, the use of IT has become one of the management challenges for companies, on the other hand, there is a shortage of IT engineers in Japan, and this situation will continue for a while.
Overview, the advancement of Internet technology has enabled smooth communication even when the location is far away by utilizable web conferencing and cloud storage.
Moreover there is an increasing number of companies adopting the cloud regardless of whether the system environment is an internal system or an external sales system, so engineering work can be performed without any concern about the location.
With this environment in place, I feel that companies that can utilize oversea engineers to benefit from cost reduction and business expansion in the future. For the offshore team to be able to move with a thorough understanding of the customer's culture and business, Vietnamese engineers who can speak Japanese can be stationed at your company and cooperate with the offshore team. You can take advantage of talented Vietnamese engineers to achieve your business goals."
The Biography of the new representative director
| | |
| --- | --- |
| Month, Year | History |
| April, 1999 – May, 2004 | OGIS-RI Co.,Ltd |
| July, 2004 – January, 2011 | ALLIED TELESIS DEVELOPMENT CENTER |
| January, 2011 – May, 2015 | ALLIED TELESIS K.K. |
| June, 2015 – Sep, 2019 | D.A.Consortium Inc. |
Build your expert team at:
Website: https://www.imt-soft.com/
Linkedin: Visit IMT Solutions on Linkin
Facebook: Visit IMT Solutions on Facebook
Email: sales@imt-soft.com
Updated: October 2, 2019